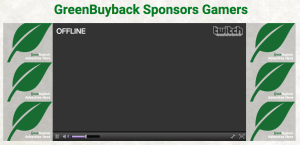 GreenBuyback has recently launched a page dedicated to Sponsoring Gamer Profiles, as well as showcasing Gamers twitch.tv streams. We are truly interested in forming long-term relationships with the gaming community and are dedicated to helping gamers grow their popularity by supporting and streaming their online play.
How Do I Get Sponsored?
Visit https://greenbuyback.com/sponsored-gamers and fill out the form with your name, email address, and information regarding your gameplay. Info such as twitch.tv / YouTube channel / gamertag / Social Media channels will help us get a better understanding of you as a gamer. We are looking to support very active gamers with large followings.
What is in it for GreenBuyback?
We are not asking anything in return. We hope to establish solid relationships with gamers and the gaming community. Any help of spreading the word that we purchase cell phones and tablets would be great! Not only do we help gamers by showcasing their gameplay, we can also put cash back into your pocket by selling us your old cell phones, tablets, laptops, and even gaming systems and equipment!
What are you Waiting For?
Fill out the sponsorship for today: https://greenbuyback.com/sponsored-gamers If you are selected, we will email you and give you further details. Thanks so much for your interest and we look forwarding to hearing from you soon.