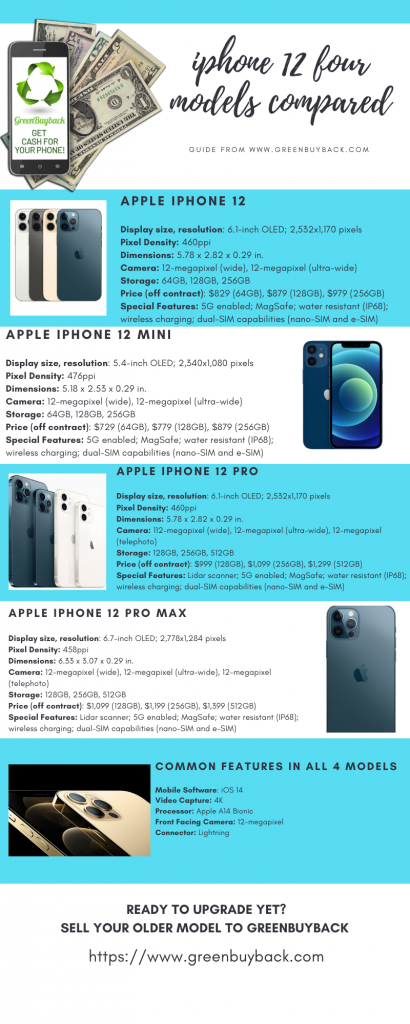 The new iPhone 12 is coming out soon. Here is the iPhone 12 comparison so you know which you should buy. Apple recently held an event to discuss the details of the release and we now have all the information. First, there will be a few different options for you to choose from. The four different phone options are as follows: iPhone 12, iPhone 12 mini, iPhone 12 Pro, and iPhone 12 Pro Max. All of them are coming out SOON. The iPhone 12 can be pre-ordered now, and available on 10/23. The iPhone 12 mini can be pre-ordred on 11/6, and available 11/13. The iPhone 12 pro can be pre-ordered now, and available 10/23. Finally, the iPhone 12 Pro Max can be pre-ordered 11/6 and available 11/13.
The new iPhones are faster with 5G. They are thinner and have tougher glass than previous iPhone models. The cameras are better and have improved retina display. All the new features sound great and we personally we can't wait to upgrade our phone. Our image here displays the details of each model and we hope you find this helpful!
If you are wondering when you should sell your old model, the answer is, as soon as possible! The sooner you sell your old model, the best pricing you are able to get from it. Why not sell your model, and purchase the new iPhone 12? With GreenBuyback you can get competitive pricing and a quick and easy way to get cash for your old phone. Go to GreenBuyback and get a free quote today. As always, GreenBuyback purchases a variety of technology. From iPhones, tablets, gaming systems and smartwatches. There are so many options of what we will purchase, and free to get a custom quote if you don't see your item on our website.